This Year's Host Hotel is the Hilton Riverside
This year's host hotel is Hilton Riverside, and we request you book your hotel stay within the required room block. Doing so is easy. Upon registration completion, you'll receive a custom link to book your stay. We recommend registering and reserving your room all at one time.
Circle of Excellence participants should plan to arrive on Monday, January 8, 2018. The Circle of Excellence event is scheduled from 8:00 am – 12:00 pm on Tuesday, January 9, 2018.
We've reserved a block of rooms at the Hilton Riverside from January 8-11, 2018. To make a reservation at our special rates of $209 - $249 per night.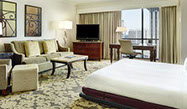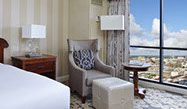 Our group rate includes free wireless internet access.
Your credit card will be pre-charged a deposit for the cost of one nights' stay, which will be applied to the balance of your stay.
Don't delay – our room block closes on December 1, 2017.
• Perks
• Deposit
• Deadline
A few things to note about our event rate:
January is the coldest month of the year in New Orleans, but the days are still quite warm and the evenings rather mild. The average temperature reaches 17°C (that's about 63°F) during the days and dips to a low of around 8°C (about 46°F). You can expect rain on an average of 10 days of the month. Don't forget to throw a coat and umbrella in your suitcase!
To get a better sense of what the weather in New Orleans will be like closer to the time of the event, check the latest 10-day forecast at Weather.com
Airport Information
The Hilton Riverside is only a short drive from two airports:
International Airport (25 min. drive)
(MSY) – 13 miles from Hilton Riverside
Lakefront Airport (15 min. drive)
(NEW) – 10 miles from Hilton Riverside
Parking
Are you driving to New Orleans, or will you have a rental car? If so, please check with the hotel you are staying at for their parking rate.
Hilton New Orleans Riverside
Two Poydras Street
New Orleans, Louisiana, 70130
USA TEL: +1-504-561-0500
FAX: +1-504-584-3989
Need assistance? We are here to help.
HiltonASC.Com COPYRIGHT © 2017. All Rights Reserved.